Happy first (real) week of 2020! Lol! I've been hearing everywhere how it's been difficult getting back into the groove of a full work week after all those holidays we had in the middle of the week and your girl is definitely feeling it, haha!
Luckily, James and I were able to get away for a weekend before the craziness set in. We wanted to just go on a road trip somewhere in Michigan to keep it a short trip for a weekend and settled on exploring Sutton's Bay, Michigan after finding out about some cool spots up there. Sutton's Bay is only 15 minutes from Traverse City which is another super cute and fun city in Michigan—making a road trip to this area totally worth it.
And for my local followers—I wanted to list out all of our stops so you can get some inspiration next time you want to take a weekend road trip!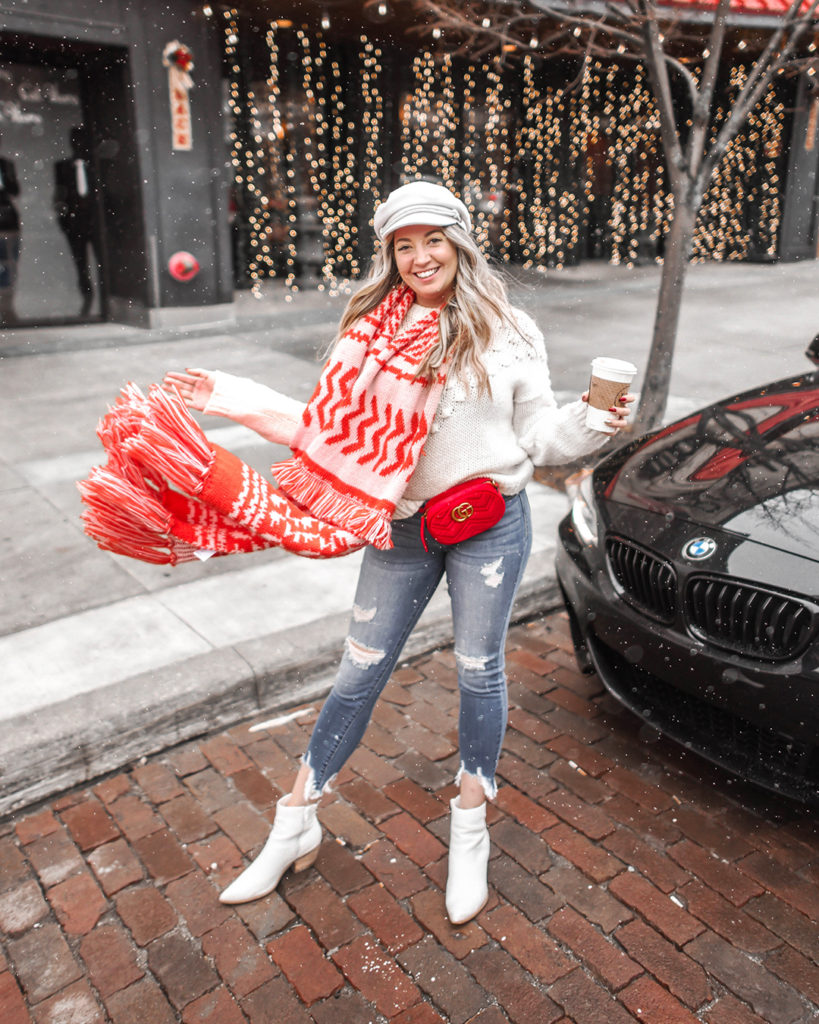 Scarf / Hat (similar) / Sweater (similar) / Belt bag / Jeans (similar, and similar), White boots (similar)
First Stop: Flint Crepe Company
We left Royal Oak at 9 am so Flint was the perfect stop for breakfast after an hour of driving. We chose Flint Crepe Company based on reviews and boy was it worth it. ?I ordered a savory ham and cheese crepe and James got a sweet one and we were sooooo happy with our choices!
Second Stop: Traverse City – Blk Mkt
It took us another 3 hours to get to Traverse City which was the perfect excuse to stop for coffee at an adorable coffee shop! Blk mkt is connected to quite a few gift shops (which is perfect for the Winter as you can see a lot without having to go outside)! One of the cute boutiques we stopped in had 40% off the entire store, so of course, I walked out with a new denim jacket and cardigan LOL.
Checked into M22 Inn Sutton's Bay
Next, we checked into the M22 Inn where we were staying at. We were the only ones because not a lot of people travel to the area in the Winter but it was quaint and worked well for us.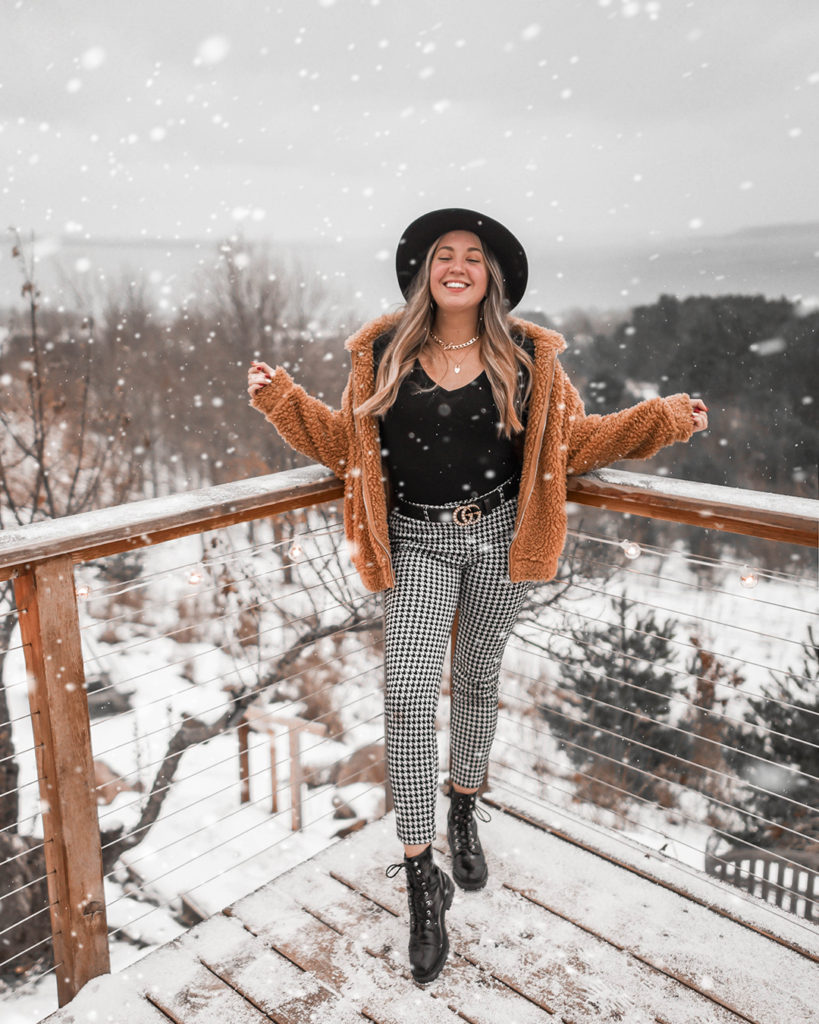 Hat (similar) / Teddy coat (similar and similar) / Belt / Pants (similar) / Boots (similar)
Suttons Bay Ciders
Once we got settled in, we ordered a Lyft and made our way to Sutton's Bay Ciders! We were OBSESSED with this place and this was definitely our favorite part of the trip. The flavors were so unique! From jalapeno to ginger, there was a flavor for anyone. They have a fireplace inside and the whole vibe was just so cozy. I think we spent about 3 hours there, haha. We didn't even want to leave! We will definitely be back next year during the Fall to see all the pretty colored leaves. Also, the photo above shows the view of the deck and it was absolutely breathtaking—even in the Winter!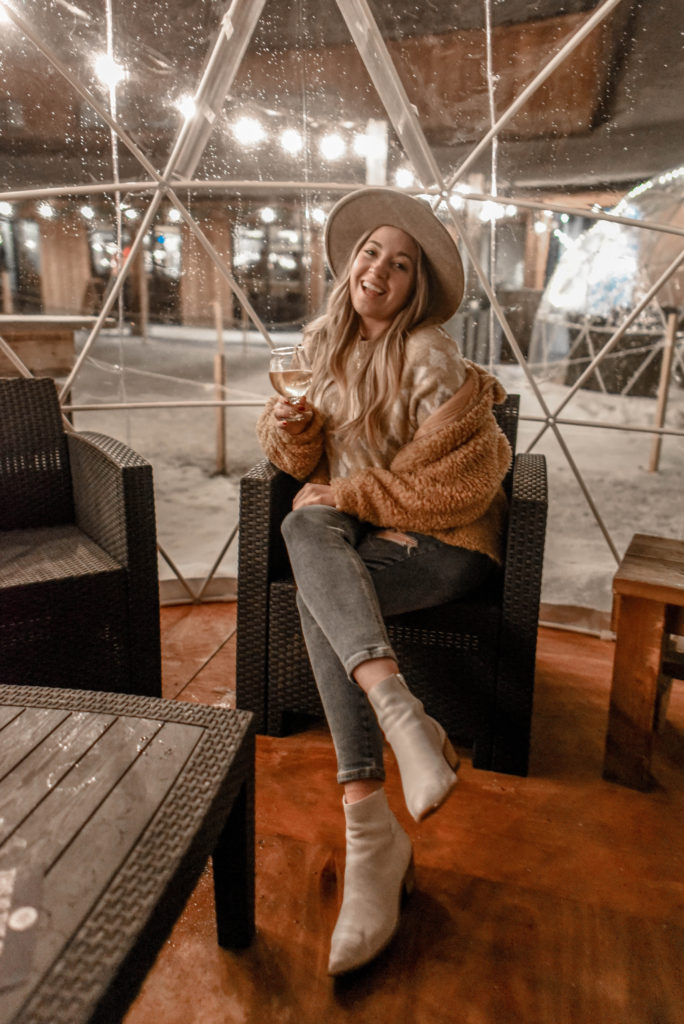 Hop Lot Brewing
Okay, this place was TOO CUTE because they literally have like 12+ outdoor heated igloos that you can reserve for FREE! Make sure you head over to Hop Lot Brewing's website to make a reservation if you plan to visit. (Tip: if you only have a party of 2 just select party of 4 so you can still get a reservation. It won't let you if you initially select less than 4). You basically can order food and drinks and hang out wherever! By the bonfire pits or in an igloo. I'm not sure if it was the time we visited but the igloos were still pretty chilly despite the heaters that were in them so I would deff recommend you wear way more layers than I did, lol!
Figs
The next day was Sunday and we had to start making our way back home because it was starting to snow really bad but we wanted to eat somewhere cute for breakfast and that's when we found Figs! And OH MY. This FOOD. I wish we had this place in royal oak, lol. Everything was farm to table and James even got a duck egg skillet! There were purple potatoes in his which I thought was cool. I ordered the "Figs Burrito" and was VVV impressed! We couldn't get over how delicious this food was and it would be a shame if I didn't share!!
If you enjoyed this post and want to reference it in the future, make sure you pin the photo below to one of your Pinterest boards to look back on! And if you're not following me on Pinterest yet, you can do so here!
Love you guys!!