Can you believe July is almost over?! With that being said, Summer is flying by us very quickly which means we need to take a moment to soak it all in! Let's make the best of what we have left! Whether you live in Detroit or not I'm hoping this post will bring some inspiration to help you spice up this last month of Summer.
Summer Date Outfit Inspo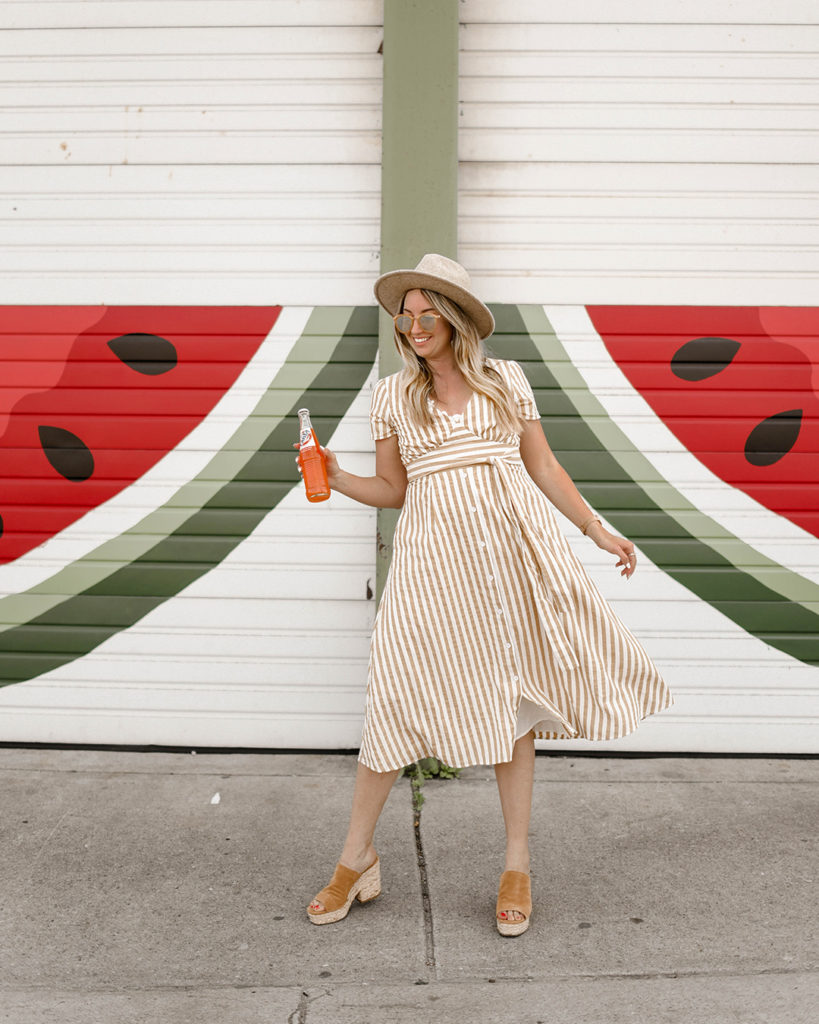 Summer Dress + Block Heel Mules
This type of outfit is perfect for picnics, exploring Belle Isle, or brunch! PS these heels are literally the comfiest pair of heels I think I have ever owned!
Shop my dress here + my heels here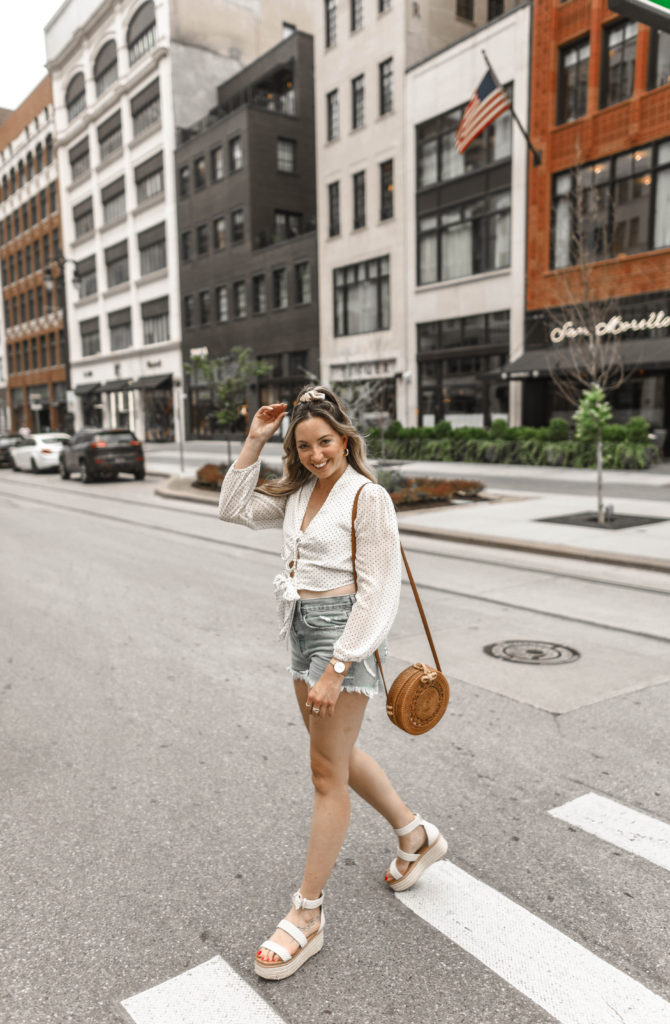 Crop top + distressed denim shorts paired with platform sandals
This outfit is perfect for biking, bar hopping, or any adventurous date in Detroit! I love the height platform sandals give me and they are so comfortable so I can easily move around how I want!
Shop my top here, my denim shorts here, and my platform sandals here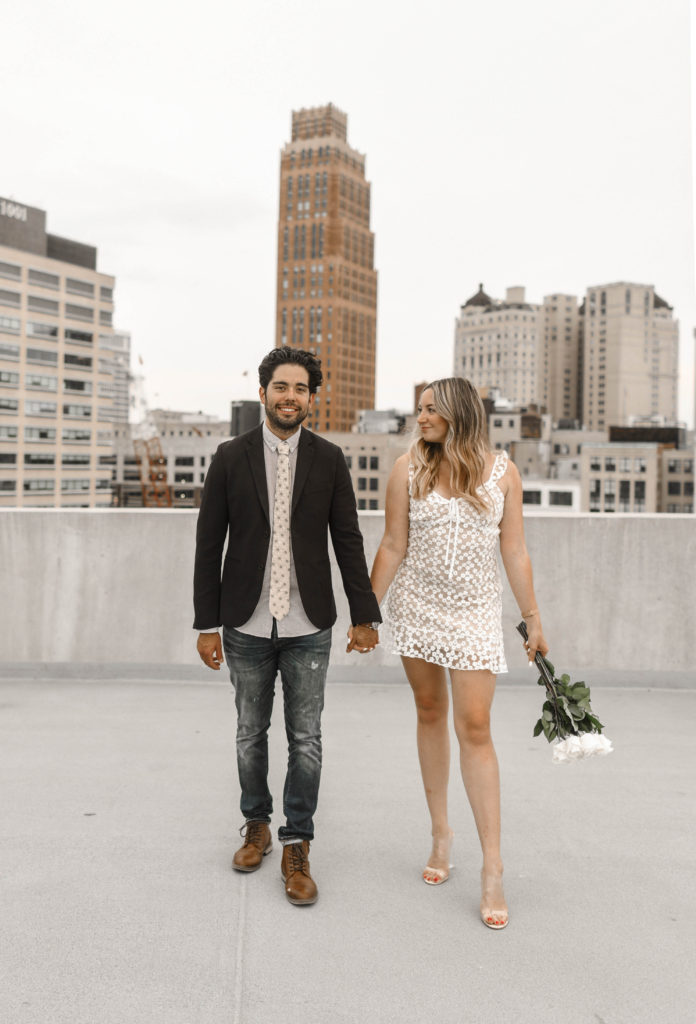 Feminine Dress + Heels
This is by far my most FAVORITE dress! It fits like a glove and I was so comfortable in it. The dainty feminine details made me feel so beautiful! It's perfect for those fancy dinner dates!
Shop this (beautiful) dress here
Detroit Summer Date Night Ideas
Have a candlelight dinner on the patio of the Rattlesnake Club overlooking the Detroit River
Enjoy Dinner from views above Detroit at Iridescence
Drinks on rooftop bars: The Monarch Club, Atwater Brewery, Collect (craft beer bar), or Motor City Brewing Works
Enjoy a picnic at Belle Isle over a sunset
Drink some beer and play a game of Fowling at the Fowling warehouse
Take a trip to the DIA and relax in Kresge Court after (could even make this a working date, gives me all the Harry Potter vibes) – or head there on a Friday night for free live entertainment!
Take a long morning walk on Detroit's Riverfront
Ride bikes on the Dequindre cut to Eastern Market on a Saturday morning at stock up on produce
Grab dessert and coffee at Bon Bon Bon
Rent Mogo bikes and bar hop around Midtown (I do this with groups of friends too and we have a blast!
Enjoy some cocktails at the Beach Bar
The Whitney's Summer Garden parties (one of my favorite spots in Detroit)! Make sure you stop by MOCAD (contemporary art museum) on your way there because it's super close and a really cool thing to see.
Spend a morning taking cheesy polaroid photos at the Heidelberg Project
Have a beach day at the Belle Isle Beach
Put on your lais and Hawaiian shirts to enjoy some luau-inspired drinks at Mutiny Bar
Have a staycation at Detroit Foundation Hotel or the new Shinola Hotel
Have brunch at the Dime Store or Selden Standard
Have a relaxing rainy afternoon at John K King Rare & Used Books
Schedule a photoshoot (or just bring your polaroid) to Eastern Market and go mural hunting! So many cool murals to look at
Park at the top of the Z lot for some beautiful views and then enjoy some Cuban cuisine at Vicente's (another favorite) + grab some Madcap coffee after
Go to Prime + Proper for happy hour (to have $$) then head to Comerica Park for a Tigers game
Grab a group of friends and have a game night at Queens Bar (so many board games to choose from)
Check out Motown museum
Explore the Conservatory + gardens at Belle Isle
Grab 1-2 more couples and take a Tiki Boat tour!
Check out the bars and aesthetically pleasing murals in the coolest alley in Detroit: The Belt
Not feeling a fancy bar? Try some of these unique bars: Honest Johns, The Keep, Abick's Bar, Checker Bar, or Tony's Tavern
Tour the Fischer Building or the Guardian Building (some of my favorite tours, so much history!)
Enjoy some live music at Cliff Bells
Have a fancy Italian dinner at Besa
Grab cocktails at Bad Luck Bar (the entrance is the back in an alley but if you can find it, it's well worth it!)
Get your arcade gaming on at Ready Player One
Play tourist and tour the city onboard a segway
Take a selfie in front of the James Scott Memorial Fountain
Go steaming at The Schvitz (a bathhouse that has been around forever)
Can't decide what to eat? Go to Detroit Shipping Company where the options are endless!
Enjoy some sushi at Maru Sushi
I hope this inspired you guys to make the most of what we have left of Summer! My birthday is in two days and James and I are completely unplugging for about 4-5 days and I honestly can't wait to take a much-needed break, I'm sure I will come back feeling so recharged.
Thanks so much for stopping by, love you guys!
-Sara