Hey guys!
Long time, no talk. I ended up getting ANOTHER cold this past week… let me just say it's been a rough week 😅. But on a positive note, I was finally able to figure out where I'm moving next month! Moving is always a huge stressor for me so I'm excited to be in a great location and enjoy it for a year or two.
Anyways, let's get to the good stuff! If you guys haven't heard of the 5 Languages of Love then you need to click this link right now and take the quiz to see what your love language is! It's SO important to know your own love language along with your partner's. To sum it up, The 5 Languages of Love says that each and every one of us loves and accepts love differently—which is so true because we all are unique and have different needs! When we are aware of our partner's love language we are able to understand what your partner NEEDS in order to feel your love.
Have you ever felt underappreciated or have you ever gone out of your way to do something special for someone and they don't appreciate it as much as you thought they would? Well, I HAVE and this is because you may not be paying attention to the way your partner FEELS love.
I summarized each language briefly below:
The 5 Languages of Love
Words of Affirmation
This means your partner needs to remind you how much they love you with words. You also thrive when your partner builds you up, supports you, and encourages you. If this is your partner's language make sure you encourage him/her often and that it comes from your heart. Leave unexpected notes around (for as long as you know him/her) and he/she will be yours forever! 😉
Physical Touch
This means you need to have your partner physically close to really feel loved by them. You feel the most loved when they grab your hand or even brush your hair behind your ears. If this is your partner make sure you are always showing physical acts of affection by giving never ending bear hugs and forehead kisses :). Also make sure to make intimacy a priority.
Receiving Gifts
This does not mean you're high maintenance! This can mean that the little things mean a lot to you and when someone goes out of their way to do something special for you, you really appreciate it and feel loved in this way. If this is your partner never stop doing the little things! If you think of something little he or she will appreciate, do it! This can be buying tulips because it's Tuesday or bringing your partner his/her favorite candy home after they've had a long day.
Quality Time
Ahhhhh, quality time. This means you REALLY need to spend quality time that's distraction-free with your partner to know they are in it for the long run. You need someone to make your time a priority to know it's real. 😉 If this is your partner, make sure you always make their time a priority. Don't be flaky… this person values his/her own time along with the time he/she spends with you.
Acts of Service
This means you appreciate the effort your partner puts in. If you're a very busy person and your partner goes out of their way to make one task just a little bit easier you will be extremely thankful. If this is your partner and you notice small things you can do to help your partner out, do it! They want to know you both are a team and that you are in this thing called life, together. 🙂
Now, I did the hard work for you! The perfect Valentine's Gifts for each Love Language are below!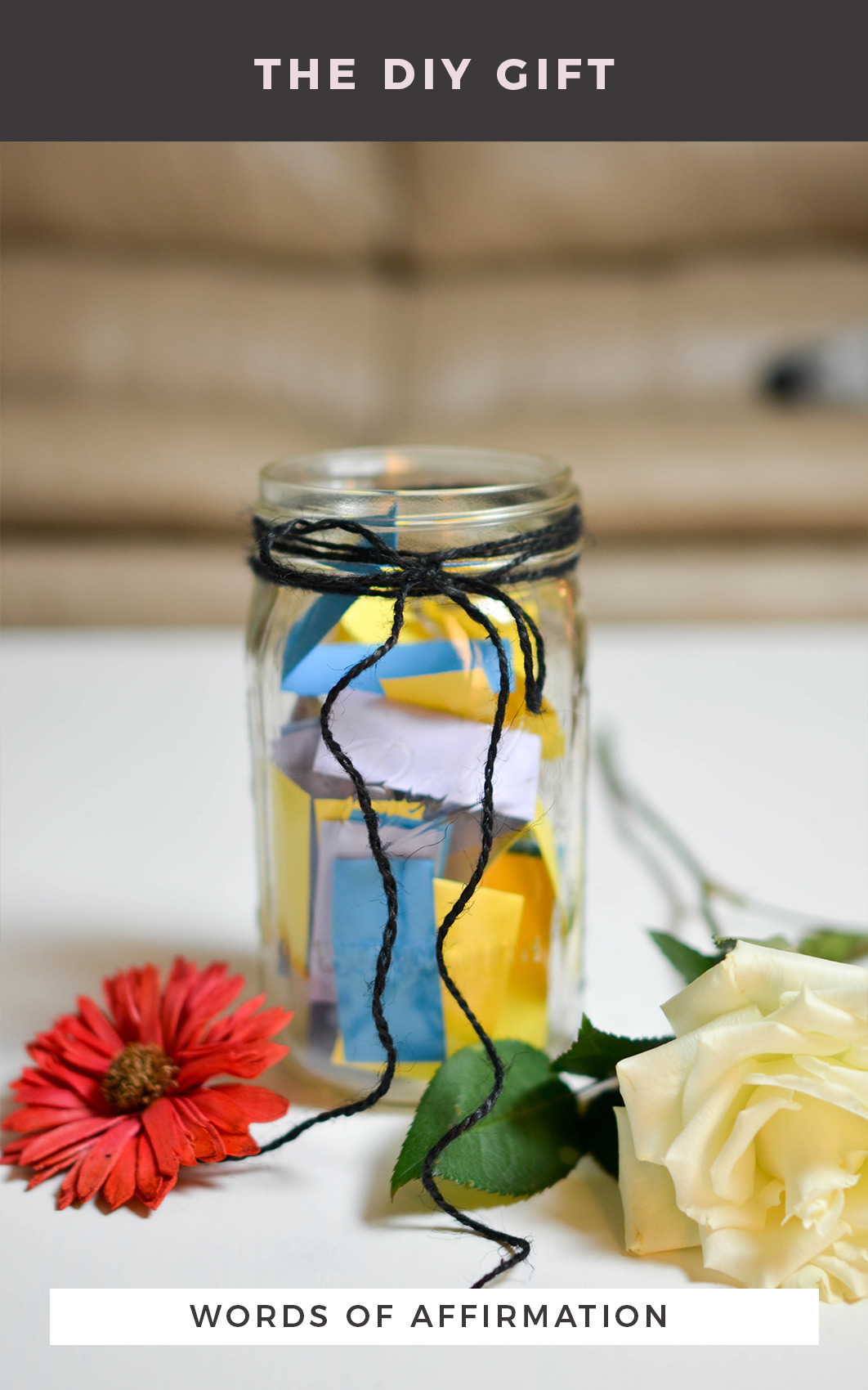 Words of Affirmation – A "50 Reasons Why I Love You Jar"
This is the most DIY gift of the list. You should have everything you need at home but if you need some mason jars they are always really cheap here. All you have to do is cut up 50 small pieces of paper. That's the hardest part! Write down one reason per piece of paper then fold the paper up, or roll and tie it. And in the jar it goes! I also tied a bow on this one with twine. This is the easiest gift to make EVER and will make a larger impact than any store bought gift.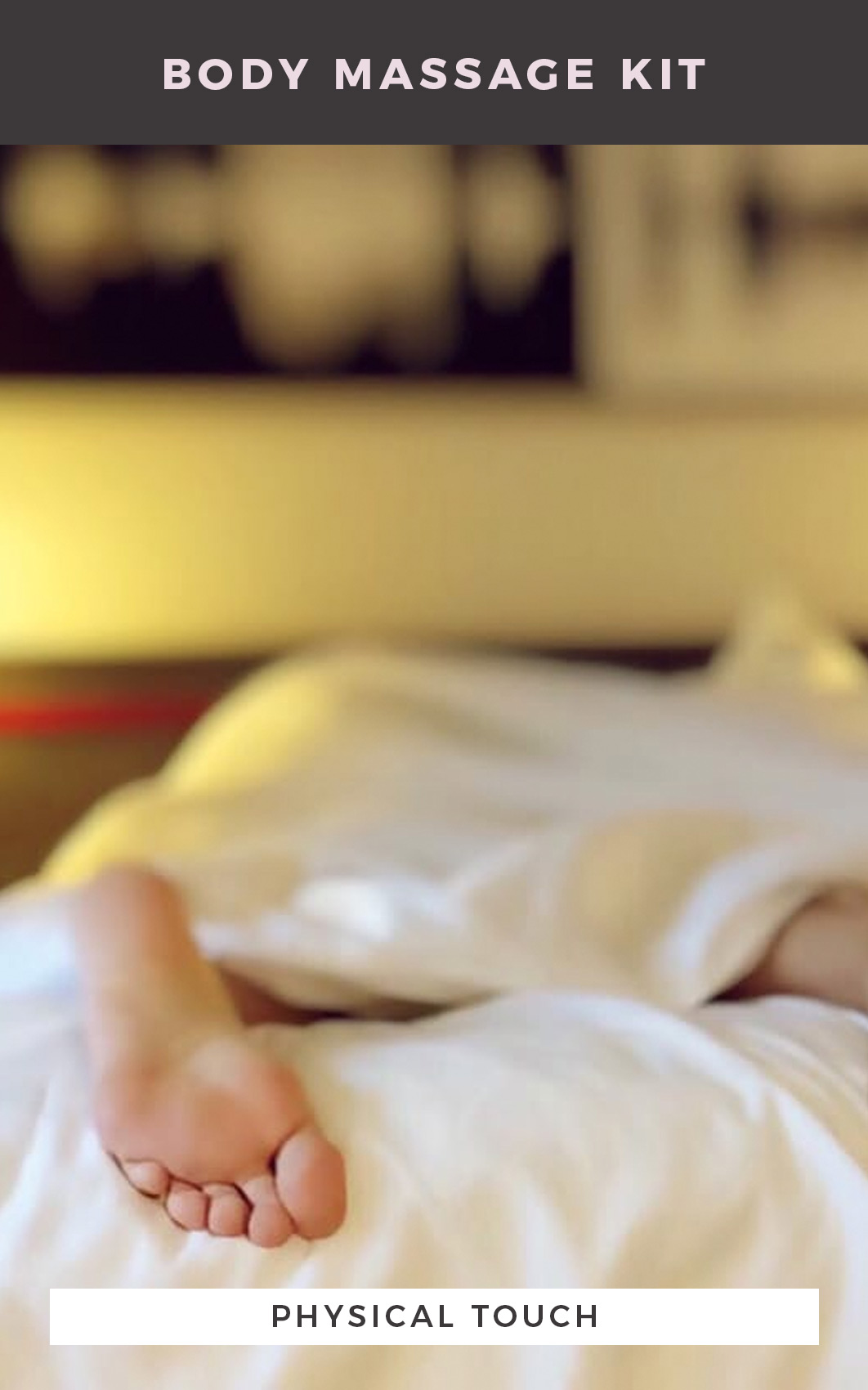 Physical Touch – Body Massage Kit
Grab the below items and throw them in a basket or gift box. Make sure to give your partner the massage of their lifetime after the gift is opened. 🙂
Lavender Massage Oil
Body Massage Candle
Decorative Candles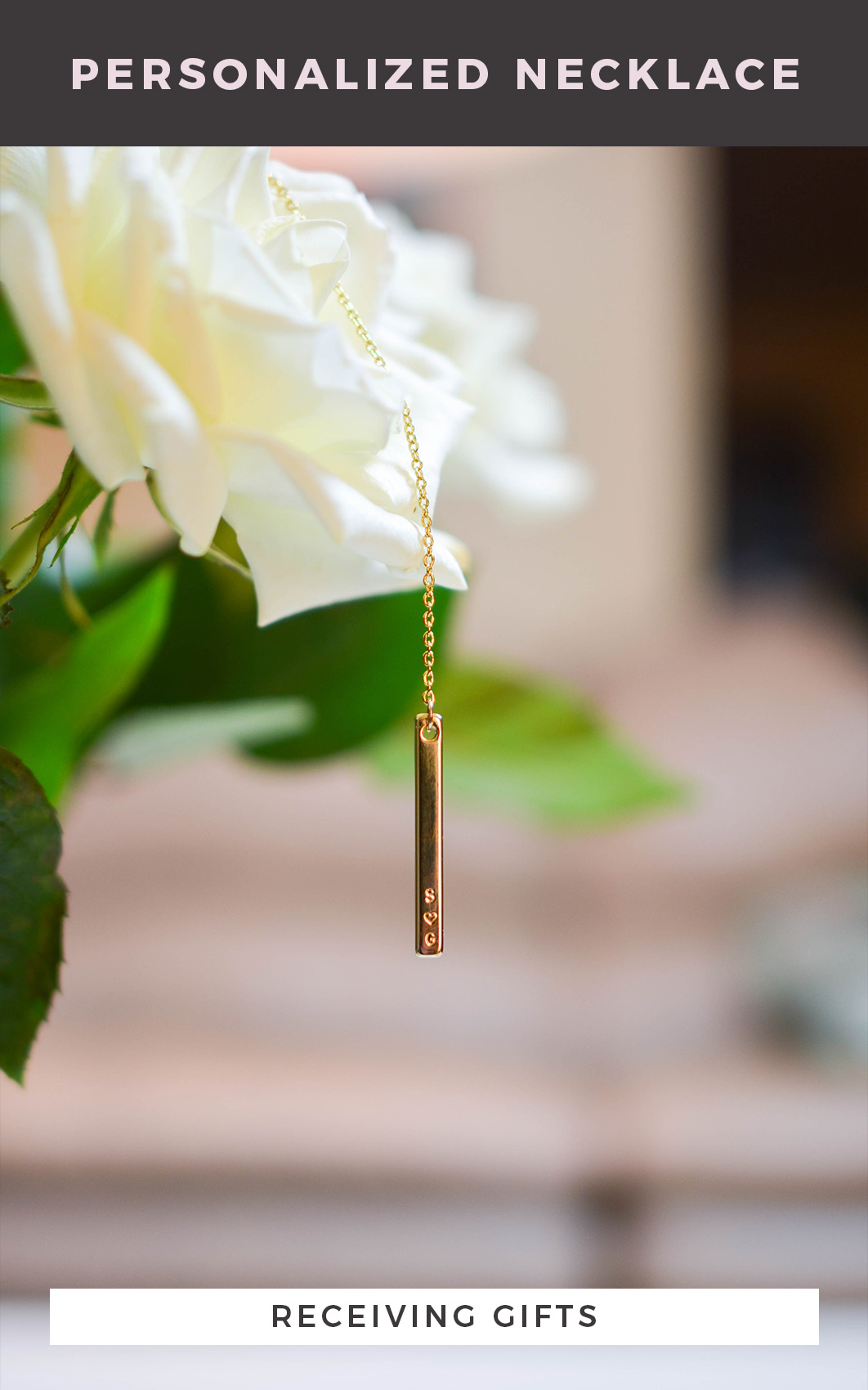 Receiving Gifts – Personalized Necklace
The personalization of this necklace is what makes this gift so special! The necklace fairly inexpensive and I was very impressed with the quality. I got the gold plated necklace and it's the 20 inch size. You can also have whatever you want engraved! Another cute idea would be an anniversary date or maybe the coordinates of where you and your partner met! 🙂
Make your personalized necklace here.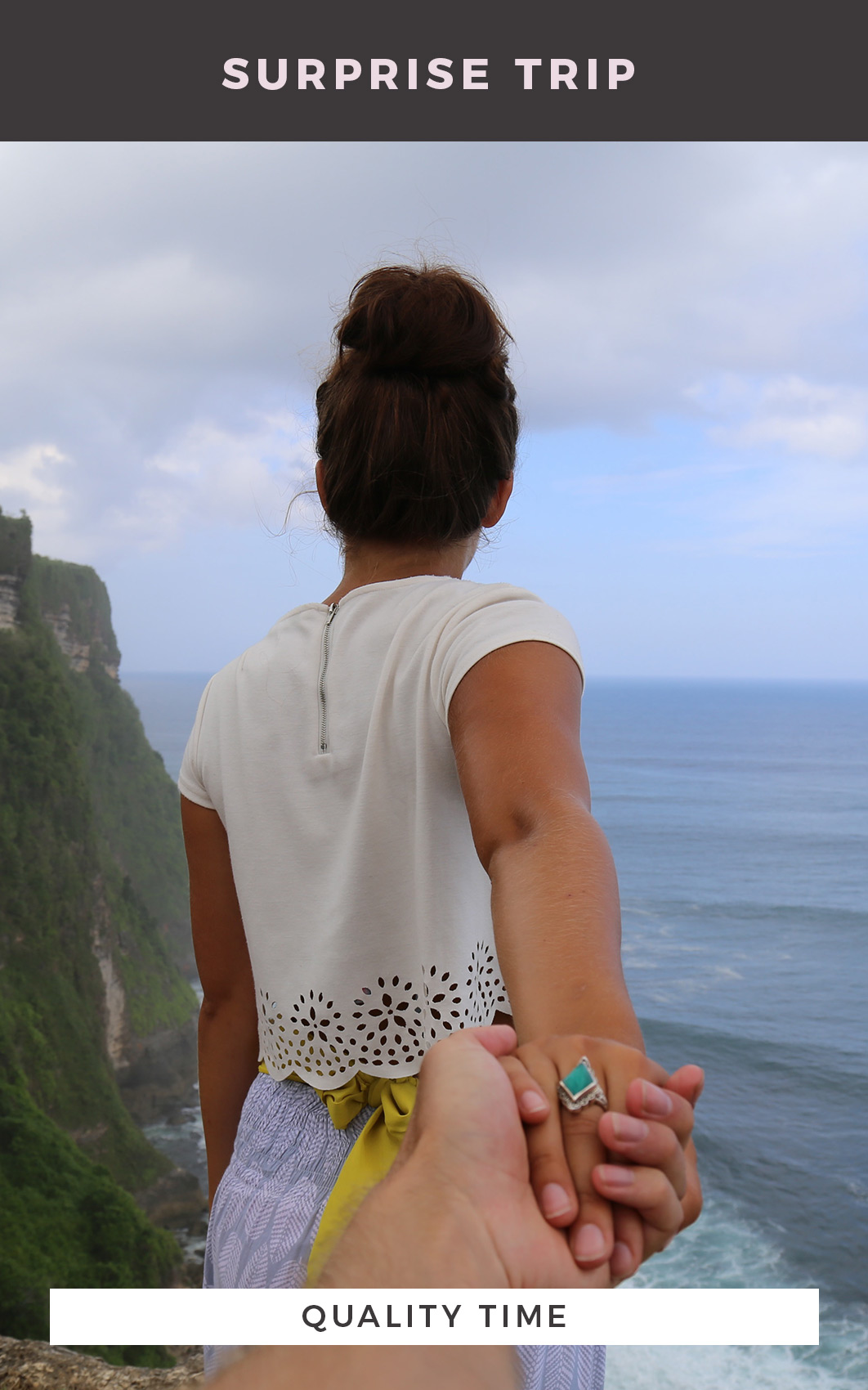 Quality Time – Plan a Surprise Trip
This doesn't have to be anything crazy… what's important is spending that quality time! 😉 You can keep it simple by camping in your backyard, surprising them with a night on the town and then stay in an Airbnb in your closest city. Or if you'd like to spend the money, plan an awesome weekend getaway for your partner! Take all of the work out of it for them and provide an itinerary for the whole weekend, allowing them to really relax and take in the scenery along with your company! 😉 I also linked a few gifts you could give her to introduce the idea of her surprise trip below:
Instax Mini Instant Film Camera
Ray Ban Sunglasses
Herschel Supply Backpack (I actually have this in grey and I love it so much, it holds my laptop and camera stuff when I go on weekend getaways) 🙂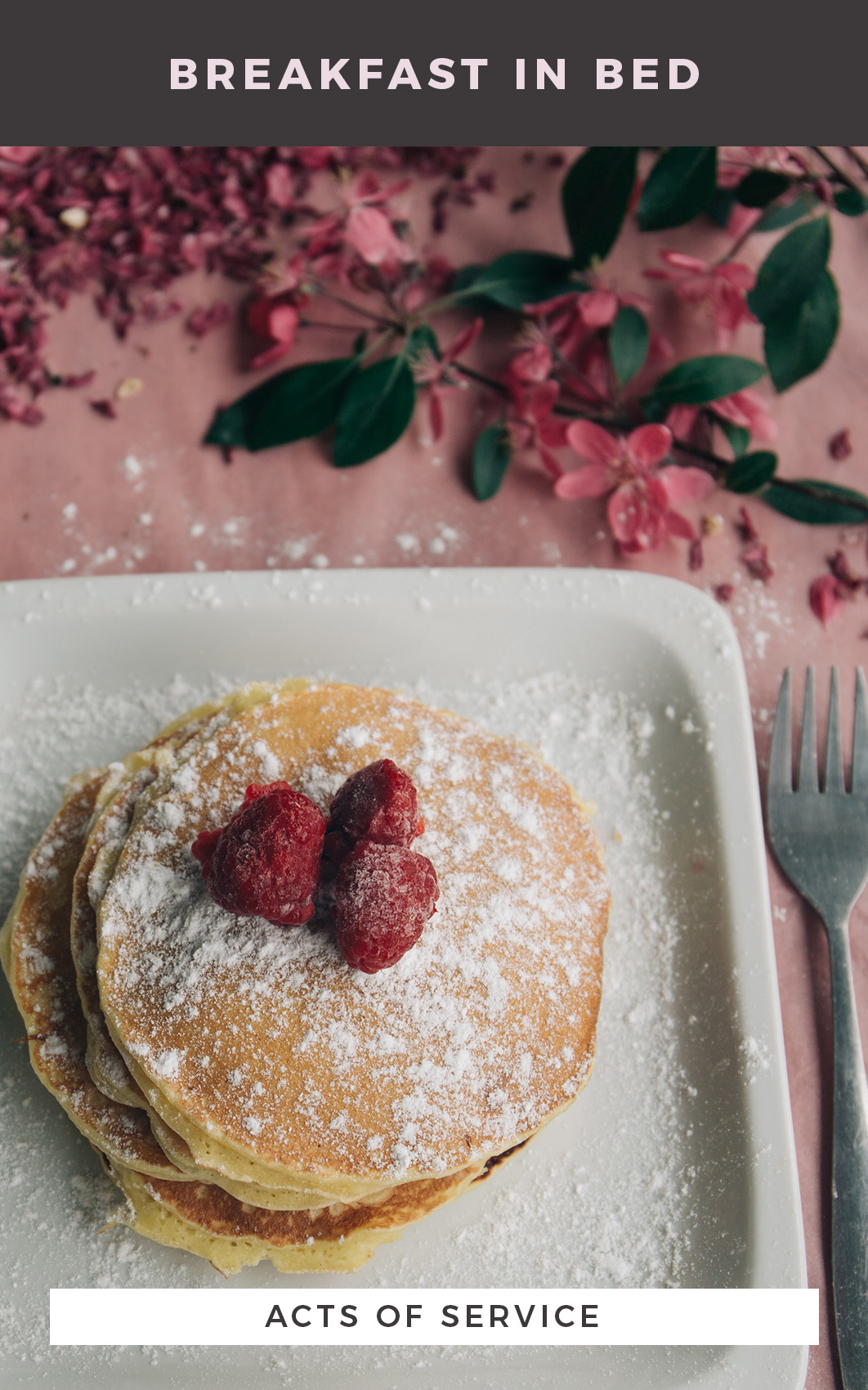 Acts of Service – Breakfast in Bed
Surprise her with her all-time favorite breakfast (c'mon you should know what this is already) 😉 in the morning before she has to get ready for work! This is a small act of service that she will especially love on Valentine's Day! If you grab one of these ADORABLE breakfast trays and present the food on one of these I'm sure she would be one happy gal. She will even love to have one of these is she doesn't already :).
Breakfast Tray 1
Breakfast Tray 2 (this one has hidden compartments, how cool!) 😮
Breakfast Tray 3
I hope this helps all of you guys who might have been completely lost when it came to yet another year of Valentine's Day. I know there are a lot of critics for this "holiday" but it is by far one of my favorites. I think it's so important to make your partner a prioirty and do the little things.
Enjoy the rest of your weekend, loves!
Cheers,
Sara